Recovering some Partition Narratives of Indigenous Communities in Northeast India

The British decision to quit India in 1947 led to intense negotiations between the Congress and the Muslim League leaders. Both political and public concern revolved on the territorial aspects of how and where the borders would be located. Although the Radcliffe Line seemed precise and detailed in paper, in reality, people had little idea of its actual definition. Once the locations of the borders were made public on 17 August 1947, they were disputed.[1] The partition continues to be a constant reminder through which the nation seeks to negotiate boundaries and national identity.
Partition scholarship has evolved over a period of seven decades and still remains diverse and contested even today. The entire deliberation on partition has mainly focused on and been dominated by the experiences of Punjab, Bengal, and till recently Assam. A major research gap in the study of partition is the lack of engagement with the hill areas of northeast India. Though there are a number of publications which study the partition of India, the hills of northeast India have never been part of the study area. Though references to these regions are found in recent studies, yet such references remain fragmentary. Although most of the hill areas of northeast India were not directly involved in the negotiations that preceded and followed the break-up of India into two countries, yet this process left and still continues to leave a mark on the lives of people there.
The entire deliberation on the violence-marred process of boundary demarcation has mainly focused on Punjab, Bengal and Assam. The purpose of this paper is to try and understand the process of boundary demarcation which brought violence into and affected the lives of the Khasi, Jaintia, and Garo people.
Seen inevitably as a reasonable political compromise and as a solution to ethnic conflict, the partition instead created borders between identities and culture, which brought about uncertainty, fear, panic, insecurity, and cultural and personal differences. Scholars have pointed to the drive of leaders of modern nations to achieve as much homogeneity as possible within their borders. When borders are redrawn and pulled inwards, they have argued, contraction is usually driven by the aim of creating a 'more nationally homogeneous and legitimate rump-state' by 'shedding the load of governing a recalcitrant or rebellious people,' or 'hiving off the unwanted or undesirable.'[2] People who had for so long lived in close proximity to each other turned inwards, towards national centres and away from their neighbours who became citizens of different states overnight.
When the Boundary Commission announced its award on August 17, 1947, it physically separated northeast India from the rest of the county, save through a small passage of 22 km often referred to as the 'Chicken's Neck'.[3] This new border which was carved out of the Radcliffe Line was not physically demarcated on the ground. Realities on site were very different from mapping the border on paper. Colonial district maps assisted the deliberation of the Commission. In addition to maps, the Boundary Commission also depended on the controversial 1941 census to locate and divide the population according to majority and minority communities.[4] The Muslim league defended this census as authoritative while the Congress representatives to the Commission argued that the 1941 census had been conducted at a time when political power and representation depended on an increase in numbers. Radcliffe also used natural features such as rivers as boundaries, which tend to change their course over time. This led to confusion amongst the border people and officials alike. With regard to the Assam and East Pakistan border, Bishnu Ram Medhi in a letter to Nehru stated that "Most of it lies along the foot of the hills…there are practically no roads over the hills… a good part of the border is the river which is so wide and full of subsidiary channels and islands that it is difficult to draw a line."[5]
The partition affected working people's livelihoods. The border people were among those directly affected by partition. Before the partition the Khasis, Jaintias and the Garos had long been economically more integrated with Eastern Bengal than with the plains of Assam.[6] Partition disrupted the traditional links that the Khasis, Jaintias and the Garos had with the East Pakistani district of Sylhet and Mymensingh respectively. These tribes resided not only in the hill district of Assam but also in the plains of Sylhet and Mymensingh. With partition, these people were internally split into Indians and Pakistanis depending on their residence.[7] The centuries-old prosperous border trade-based economy was killed by closing the borders and erection of check- posts.[8] As a result of the partition of Sylhet, a border of about 150 miles in length was created across the Khasis- Jaintia Hills. The boundary of the new state of East Pakistan partitioned the lands inhabited by the Khasis, the Jaintia and the Garos as the boundary came to be demarcated that runs 'from boundary pillar number 1071 located at the tri-junction of Rangpur district of Bangladesh, West Garo Hills district of Meghalaya and Goalpara district of Assam and ends at the boundary pillar number 1338 at the tri-junction of Sylhet district of Bangladesh, Jaintia Hills district and Cachar district of Assam.[9]
Ideally, the new border was to be sufficiently distant from key strategic points to enable them to be securely protected from encroachment or invasion. This meant identifying strategic points, whether cities, bridges, railheads, headwaters or factories, and deciding how far away from the frontiers they needed to be in order to be capable of being defended.[10] For the Khasi, Jaintia and Garo people, the partition of 1947 created confusion and provoked routine border disputes which had long-lasting effects, especially where certain areas along the borders were being disputed between India and Pakistan. It became difficult to affirm the exact position where the boundary ended unless one referred to maps and surveys.
The newly created borders conferred both states with problems of securing and maintaining their borders. Often such security concerns would translate into cases of harassment by state representatives at the border. Allegations of East Pakistani encroachers entering India and vice-versa were commonly heard. Perhaps the most extensive impact of partition on work in the borderland had to do with agricultural work. With partition the people's access to the agricultural lands came to an end. Cultivable agricultural lands along the border were neglected for many years because of the border disputes. Numerous cultivators found that they had become separated from their most valuable source of income – land. Many land owners found that the borders ran between their homes and their fields. Secondly, inhabitants of the borderland who decided to migrate across the border also became separated from their fields. Working the land on the other side of the border continued to be a common practice but there were several problems. Many of the people had to make a decision on whether to give up their lands or to move across the border to keep them.[11]
H. Pinesingh Temthai[12] from Nongjri, in East Khasi Hills, who was about twelve years old when the partition took place, recalls how he and his family were harassed by Pakistani officials for crossing the border to work on their fields which became part of Pakistan. He recounts how their Sirdar advised them to leave their agricultural lands and settle on the Indian side of the border. Similarly, Kalet Lamin[13] from Dawki who was about fifteen years old when partition took place states that they had to abandon most of their lands in Pakistan and settle on the Indian side of the border as they were continuously harassed by Pakistani nationals. For her, the silver lining of partition was that they no longer had to share their lands with people from the other side of the border.
Most of the people living at the borders who lost most or all of their lands after the demarcation of the boundary wanted to be compensated for their loss. Lab Singh of Darrang village, Jaintia Hills, who owned about 8 acres of land, lost a plot of paddy fields because of the resettlement of the boundaries. He was assured that even though a part of his land became part of Pakistan, his property would not be disturbed and that he would still be allowed to cross the border to cultivate his fields and pay the usual land revenue to Pakistan when the rent was demanded. However, on 2 September 1961, he made an appeal to the Government that he should be compensated for the loss of paddy as he was continuously being harassed by the Pakistani nationals, who were backed by the Pakistan Armed forces.[14]
Over a period of time, considerable stretches were demarcated and marked by boundary pillars but some areas remained undemarcated and even border guards were not exactly sure where the border was[15]. For instance, in the Pyrdwah (also known as Padua) in the Khasi-Jaintia Hills area, which adjoins Sylhet district, about 6. 5 km was left undemarcated. On 27th August, 1956 some cultivators had to run for their lives as they were being chased by the EPR personnel who were supposed to be on the other side of Padua in East Pakistan. An old woman, Synshar Pohlong and her granddaughter just managed to get away. The EPR also took away their agricultural tools. The incident was reported to the Indian Border Forces (IBF) but no help was given to them. In a letter to the Chief Minister of Assam, Maham Singh, the MLA of Umsohsun, Shillong, requested the Chief Minister to issue orders to the IBF to protect the cultivators of the area, who were suffering as they could not cultivate and attend to their groves.[16]
After the partition, it became impossible to cross the border except via approved routes where army and police checkpoints were installed. Noorjahan[17] from Bangladesh travels across the border to sell her goods such as chillies, dry fish, returning home in the evenings. She would usually be allowed to cross the border by the BSF personnel and in return she would give them a little of her goods as compensation. She continues to live this way even today. Kalet Lamin from Dawki recalls how the border officials would turn a blind eye and would usually allow the people to trade and exchange their goods with each other. In return the villagers would pay them through bribes and other favours. Most people also claimed that at times the border officials would confiscate their goods, seize them and would even threaten them. There were also times when they faced reprehensible body searches. To avoid such situations, they would give away their produce and cash.
As the border between East Pakistan and the Khasi-Jaintia and Garo hills was about 443 kilometres long and had too many minor access roads it became difficult to control all cross-border movements. For many local people, who were aware of ways in which the border could be crossed this attempt to seal the border seemed like a pointless strategy. Difficulty in patrolling parts of the border led to widespread smuggling. For most people living at the border, smuggling became a daily occurrence as it provided an economic sustenance for them. For instance, on 1 October 1961 an East Pakistan Rifles (EPR) patrol party witnessed two Pakistani and four Indian smugglers delivering and receiving huge quantities of betel nuts and other goods being smuggled in Sylhet, about 250 yards from the border. The EPR halvidars arrested the smugglers and seized the smuggled goods.[18]
Beidum Sucheng[19]from Dawki, Jaintia hills, who was about twelve years old when the partition took place, recalls how her mother was arrested for about 15 days, when she was caught crossing the border to sell her goods which included tobacco, soap, betel-leaves and milk, which was seized by the Pakistani authorities.
The new border became part of routine border disputes in the subsequent years. On 25th February, 1950 an appeal was made by B. Mawlong, Sub Inspector, Criminal Investigation Department, Shillong, who stated that at Bholaganj, Shella, most of the Muslim shopkeepers of Bholaganj Bazaar fled to Pakistan the night before, taking with them their respective valuables and movable properties as they were robbed by the Hindus. Under such circumstances, he requested the Government to take possession of those houses which were once occupied by the Muslims. There were also incidents of Hindus in East Pakistan being forced to convert to Islam and their properties was also pillaged. As a result, most of them left East Pakistan to come to India.[20]
On 26th of March 1964 in Rajai village located in Ranikor of West Khasi Hills three Indian nationals, Marslin Marak, Peter Marak and Selestin Marak, were on their way home with rice purchased from Pakistan nationals when an armed EPR havildar with Pakistan nationals came out of their concealment and tried to catch hold of the Indian nationals. The EPR havildar then fired at them, taking Peter Marak's life.[21]
In the Garo hills the situation was no different. On 18th March, 1956, a report states that a ten year old girl, Barwai Marak, an eleven year old boy, Mangal Singh Marak, and Sashi Marak from Khongkuma in Dalu District, Garo Hills, were grazing seven heads of cattle on the border village of Doomagiri, P.S. Dalu when three EPP sepoys of Bhuyanpara BOP (Ghosegaon) trespassed into Indian territory and forcibly took away the cattle along with the above noted Indians into Balchugiri, P.S. Haluaghat, District of Mymensingh, where they were detained for two and a half hours. To set them and the cattle free, Barwai Marak's family had to pay them Rs 30/.[22]
On 16 August, 1967, four EPR personnel of Pak BOP Kamalpur in disguise trespassed into Indian territory at Nandirghar village, Garo Hills about 75 yards near Border Pillar No 1082/3-S and kidnapped an Indian national, Jaharul SK, after assaulting his mother. On the same day a Pakistani national, Mohammad SK of Dhanua P.S. Sribaredi District, Mymensingh accompanied by 10-12 Pakistani Nationals of the same village trespassed into Indian territory near Border Pillar No 1082/A and stole a buffalo worth Rs 350, which belonged to Sibal Ch. Saha of Ghegapara P.S. Mahendragarh. The said Pakistani nationals reported that they had been encouraged to commit the crime by EPR personnel across the border[23]. On the same day, two EPR personnel of Pakistan BOP Kamalpur entered Nandirchar, India, about 75 yards from pillar No. 1082/35 and kidnapped an Indian national, Johorul of Nandirchar P.S. Mahendraganj District, Garo Hills, from his house and also assaulted his mother.[24]
On 7th April 1968, twenty-five Pakistan nationals of Lengura village under Kalmakanda Police Station encroached into Indian terrain at Rongra and robbed Nimai Marak, which was 50 feet from the border pillar No. 1173 under Dalu Police station. The Pakistan nationals opened fire, killing a minor, John Sangma, who was about 19 years old and stole Rs. 1500 and other valuables including six and a half maunds of rice which was worth Rs. 900.[25]
Conclusion
Partition changed the course of many lives. For the Khasi, Jaintia and Garo people, partition was not a simple realignment of cartographic contours but an intensely political event that metamorphosed the life of the people who fell on the 'wrong' side of the boundaries as location determined socializations and articulations of culture and politics[26]. The newly created borders transformed the lives of the Khasi, Jaintia and Garo people. Overnight they were given new identities determined mainly by their residence on either side of the border and were required to adapt to new and challenging conditions, which they little understood. The new boundary separated them from their fields, homes and from people with whom they had lived alongside for years. The border brought about uncertainty, fear, panic and insecurity. Despite the passage of seven decades, partition continues to affect and challenge the lives of the Khasi, Jaintia and Garo people. The fluidity of borders, the continuous tussle over boundaries, the ongoing negotiations over citizenship, combine to make Partition a process and not an episode in the history of these regions.
Notes and References
Interviews
H. Pinesingh Temthai, dt. 06/05/2017 at Nongjri, East Khasi Hills.
Kalet Lamin, dt. 10/04/2017 at Dawki, Jaintia Hills.
Noorjahan, dt. 10/04/2017 at Dawki, Jaintia Hills.
Beidun Sucheng, dt. 10/04/2017 at Dawki, Jaintia Hills.
Secondary Sources
Chatterji, Joya, The Spoils of Partition Bengal and India, 1947-1967, Cambridge University Press, New Delhi, 2007.
Chester, Lucy, Payne, 'Drawing the Indo-Pakistani boundary during the 1947 partition of South Asia', Yale University, doctoral dissertation, 2002.
Dutta, Binayak, 'The Past as Present: Partition in Assam politics during independence and beyond' in Dialogue: Quarterly Vol.16. No.1, July-September, 2014.
'Recovering a Forgotten Partition: Decolonization, displacement and memories of Home and uprooting in post-colonial Assam, in Partition of India: Postcolonial Legacies, (ed), Routledge, London, 2019.
Guha, Amalendu, Planter-Raj to Swaraj: Freedom Struggle and Electoral Politics in Assam 1826-1947, Indian Council of Historical Research: People's Publishing House,New Delhi, 1977.
Khan, Yasmin, The Great Partition: The Making of India and Pakistan, Yale University Press, London, 2007.
Schendel, van, Willem, "Working Through Partition: Making a Living in the Bengal Borderlands, in International Review of Social History, 2001.
Saikia, Arupjyoti, 'Borders, Commodities and Citizens across Mud and River: Assam, 1947-50s', in Studies in History, February 2016.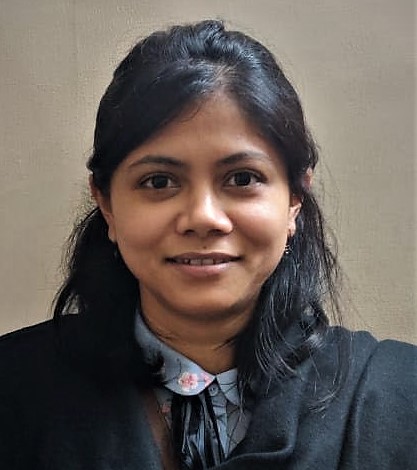 Faith Elwin Kharbuli is a research scholar at the Department of History, North Eastern Hill University, Shillong. Her research and writings intensively explore the partition experiences of the Khasi, Jaintia, Garo Hills and Tripura (1947-1971). She has written and presented her work at several national and international conferences and seminars. She graduated from Loreto College, Kolkata (B.A. History Honours), she has been a Gold Medal Awardee for her M.A. (2013) from North Eastern Hill University, Shillong. The papers she has presented in seminars include, Future Challenges for Partition Scholarship: The Khasi-Jaintia Perspective', IIT Guwahati, The Khasi-Jaintia Experience, Asian Confluence, Shillong, Violent Experiences and Boundary Demarcation in Northeast India, and Verrier Elwin, North Eastern Hill University, Shillong, among others.