Seventy-five years since the Radcliffe Award and eighty-five years since the separation of Burma from India, the borderlands of Northeast India are, as yet, not a resolved question. While with the drawing of borders and national boundaries, the people lay transformed into transborder communities, they are yet to come to terms with the cartographic exercise that metamorphosed their lives. The existence of transborder communities who are dispersed across India and Myanmar on the one hand and India and Bangladesh on the other, despite sharing common social traditions and cultural practices even today are grim reminders that partition in Northeast India is a festering reality.
This edition of Partition Studies Quarterly draws our attention to the impact of colonialism and partition on the politics and international relations both in India and Burma (now renamed as Myanmar). While the conversation between the PSQ Executive Editor Samrat Choudhury and Gautam Mukhopadhaya, former Ambassador of India to Myanmar, draws us to the impact of colonialism and decolonization on the political developments in Myanmar, Pradip Phanjoubam's book extract reminds the readers about the impact of colonialism on post-colonial politics of northeast India, especially the ethno-linguistic divide with the antagonism and anxiety that coloured the politics of Assam, culminating in the NRC. The essay by Binayak Dutta also seeks to locate the politics of Assam in the run-up to the transfer of power and the role of the Jamiat-ul-Ulama-i-Hind as an attempt to demystify the stereotype of the Muslims in partition politics. This considers the fact that ethno-linguistic politics curiously combine with communalism to create communal stereotypes across the region.
While attempts to understand colonialism and de-colonization remain one of the common threads that stitch the pieces together, the other thread is an attempt by all the pieces to examine the linkage between the past and present in the politics of South Asia in its own way. This is a major takeaway from this issue.
PSQ Journal Editors
Binayak Dutta, Samrat Choudhury, Amrita Gupta
*Due to the difficulties of the second wave of the Covid pandemic, PSQ Issue 04 has been a rolling edition of an essay, a book excerpt, and an interview, unlike our earlier issues. We thank you for your continued support.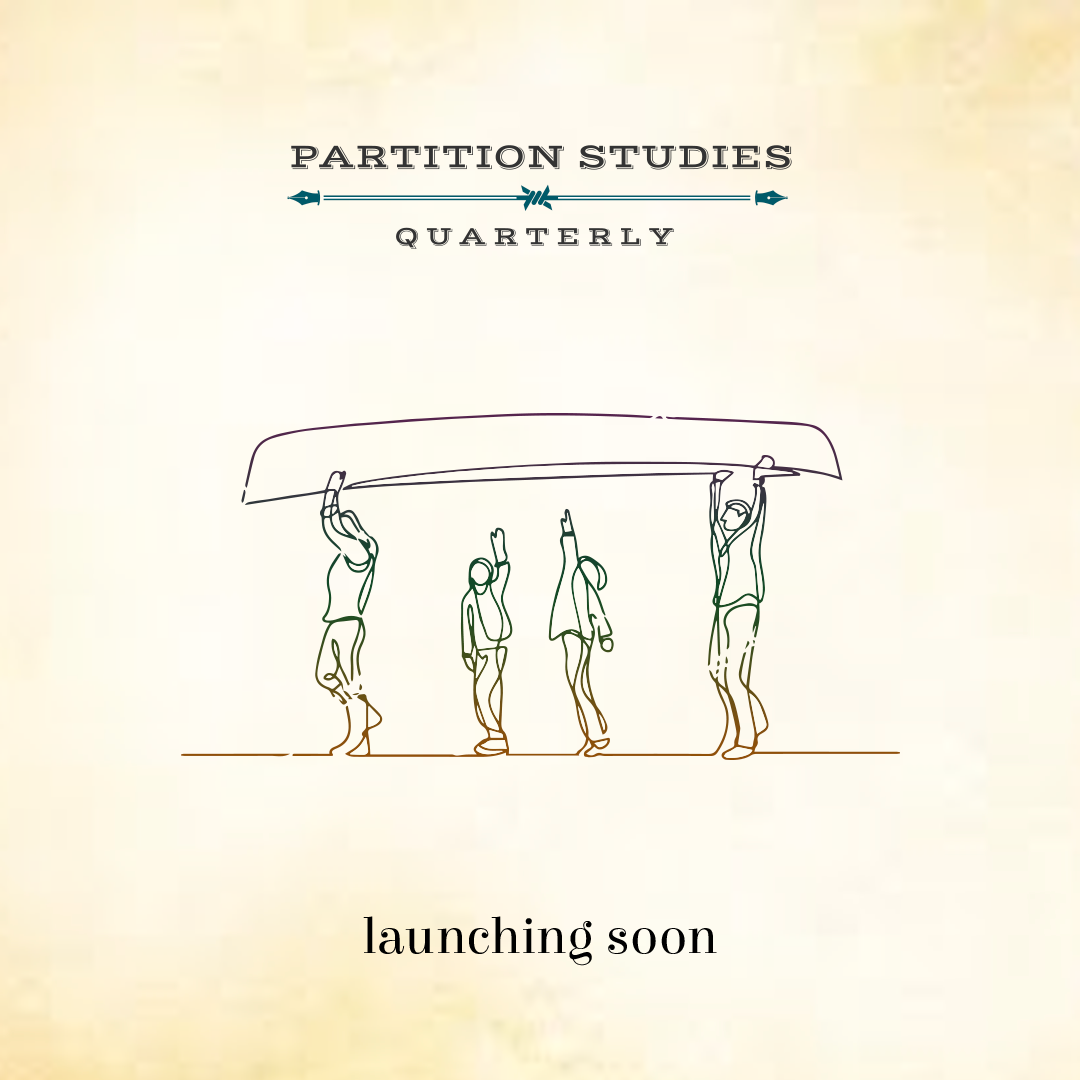 As a new online journal, Partition Studies Quarterly (PSQ) will engage with the Partition narratives of northeast India within the larger discourse of the Partition of India. This international peer-reviewed journal will provide a platform for scholarship through an interdisciplinary model to explore historical and contemporary accounts of nationalisms, displacement and ongoing experiences that Partition really brings.