Was it inevitable? More than 73 years after the Partition of India, this is a question that continues to evoke debate. Opinions differed then, and they still differ now. Those who believe it was avoidable consider Pakistan's founder M.A. Jinnah and the last British Viceroy Lord Louis Mountbatten the villains of the piece. Jinnah, of course, was proud of his achievement. How did Mountbatten feel about it? Journalist Kuldip Nayar had traveled to London to meet and interview him after Partition, and asked him some hard questions. His account based on that interview exists in a book called Scoop! from which we have an excerpt in this issue of PSQ.
There is a general tendency, not merely in public imagination but even in more informed discourse, to view India's independence, and the Partition of the subcontinent, as events that happened on one particular day, or at most, over a period of a few weeks or months. The truth of the matter is that it happened over a period of decades; perhaps, it has not yet stopped happening. In this edition, anthropologist and historian Sayeed Ferdous looks at the continuing tragedy of this process in the lives of the people he calls "borderlanders" through the example of a teenage girl, Felani Khatun, who was shot dead by a soldier from India's Border Security Force while illegally crossing the border into Bangladesh. His essay, he writes, is about the prolonged aftermath of Partition. "It will help one to see that far from being an event of the past, Partition is a living process in the present, replete with all its historical baggage. This article will engage with the complex relationships of the post-Partition states, the border, and borderlanders. Contrary to the metaphor of surgery, the hasty-border making has become a chronic wound, dispersing venomous pain, and infections," writes Ferdous.
The borderlander, whether imagined as a long-suffering victim of distant border-making states or enterprising villain of illicit crossovers, is typically imagined as being Bengali in the context of Partition in the east. However, even a cursory glance at the map of Bangladesh shows that the greater part of the length of the border between India and Bangladesh is not between West Bengal and Bangladesh, but between that country and the states of Meghalaya, Assam, Tripura and Mizoram in Northeast India. The Hindu-Muslim nature of border-making has clouded the reality that in a lot of places, often the border did not divide Hindu from Muslim at all – it divided similar populations on both sides. In the southern Jaintia, Khasi and Garo Hills, those populations were of tribal communities. They, too, have suffered the effects of the Radcliffe Line which divided their peoples and lands. In his essay, research scholar Sashi Teibor Laloo looks at the experience of Partition in the Khasi village of Wahlong in the southern Khasi foothills bordering Sylhet. His own family traces its roots to that place, and Laloo combines memoir with the history of larger events to view the process that led to the "demarcation forged in tears" that devastated the economic lives of the indigenous communities of that region.
More than livelihoods were lost to the refugees of Partition. Millions of them suffered dislocation in every sense of the term. Part of their experience was etched on the landscapes of cities such as Calcutta, whose geography was transformed by the sudden influx of large refugee populations. The process did not end with the mere arrival of these people; that was the beginning of their resettlement. It continued over decades as the new arrivals in their new neighbourhoods became old, and the currents of change over years marked itself in the lives and spaces they inhabited. In her essay, citizen historian Sounita Mukherjee undertakes a detailed micro-study of the visual, political and cultural metamorphosis of the twin neighbourhoods of Sreebhumi and Lake Town in Calcutta, that have changed from post-Partition refugee settlements into upmarket zones of leisure, pleasure, and pure symbolic mass consumption through government beautification and festive cycles. Her study inevitably leads into the politics of image of which the beautification and grand festivals are an essential part.
A counterpoint to this dominant culture of beautification and politics of image is found, perhaps ironically, in art, the traditional fount of the beautiful image. In our Visual Notes section, curator Oindrilla Maity looks at the works of three artists of refugee heritage who engage with contemporary political issues to produce artworks that prioritize art as a matter of truth, rather than a matter of taste. Alongside, such artworks raise questions about rights to citizenship and belonging within the lasting legacy of the Partition.
There is one contemporary political issue that remains bitterly and often violently contested between India and Pakistan: the status of the former princely state of Jammu and Kashmir. There, a de facto Partition was wrought by force of arms in 1947. The legitimacy of that Partition itself being one that is contested and denied by all parties involved, even the human sufferings of those who experienced it have remained largely untold. Author and oral historian Aanchal Malhotra recorded an interview with one of the survivors of that Partition, a woman from Mirpur in what is now called Pakistan Occupied Kashmir by India and Azad Kashmir by Pakistan. "The tale she narrated that afternoon was unlike any I had heard before, its fabric spun with a level of violence and terror that I was absolutely unprepared for. It was harrowing to the extent that, at times, it seemed almost unreal, impossible for one family to have endured so much tragedy and continue living with the memory and burden of it", she writes. You can read more about it in the Interview in this issue of PSQ.
PSQ Journal Editors
Binayak Dutta, Samrat Choudhury, Amrita Gupta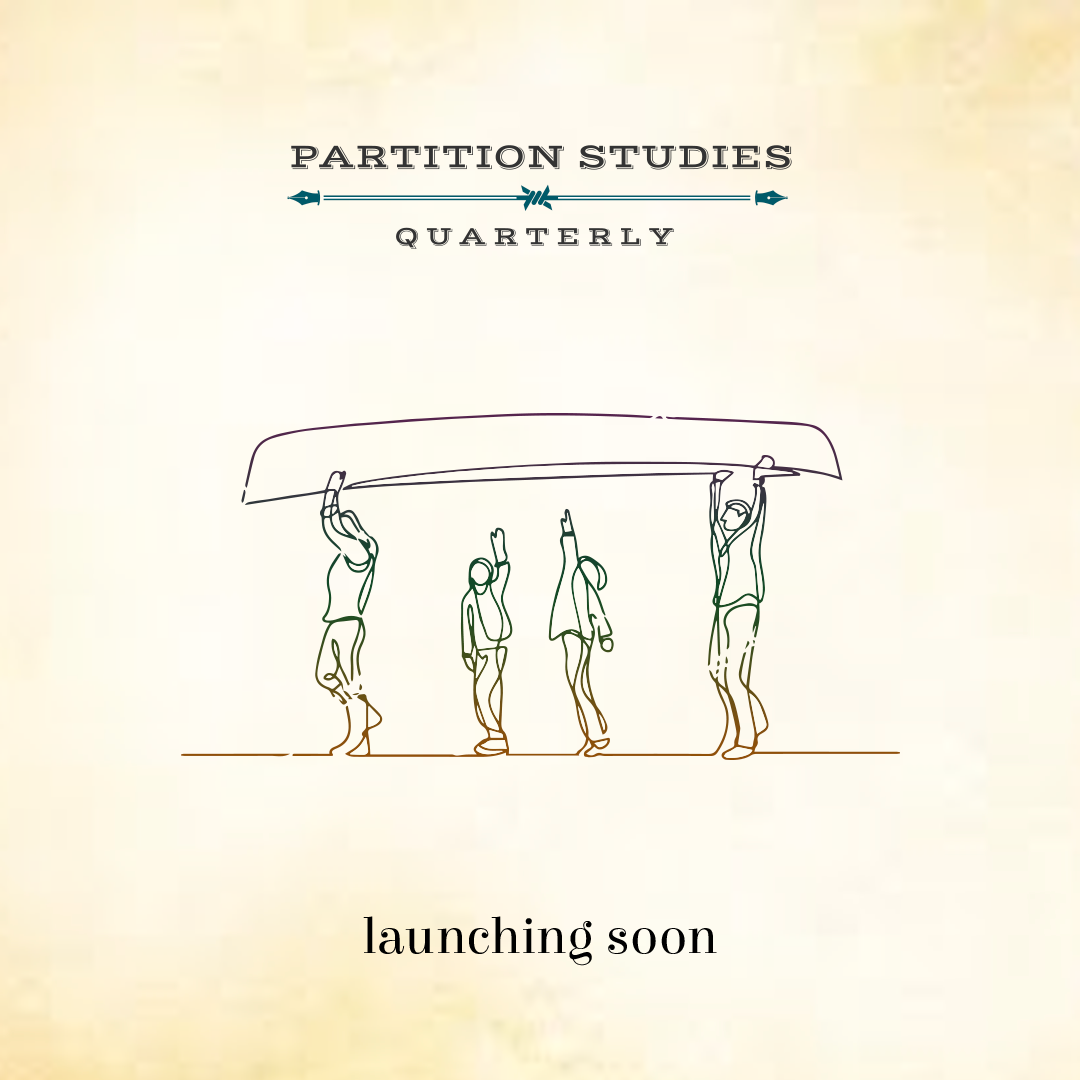 As a new online journal, Partition Studies Quarterly (PSQ) will engage with the Partition narratives of northeast India within the larger discourse of the Partition of India. This international peer-reviewed journal will provide a platform for scholarship through an interdisciplinary model to explore historical and contemporary accounts of nationalisms, displacement and ongoing experiences that Partition really brings.